Our Carla fixed pool enclosure model is ideal for those who want to enjoy their pool all year round. These covers manage to raise the temperature of the water more than 10º. As it is a fixed model, it can be installed in almost any pool without the need for very special conditions. It is also a very versatile cover since all of its sides open leaving a very clear space for the hottest seasons. One of our models with better acceptance among our customers.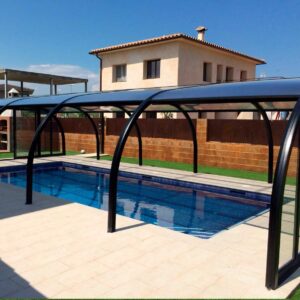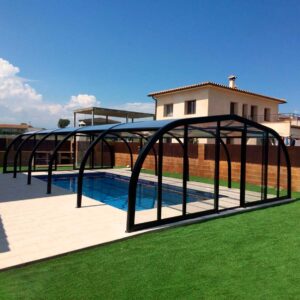 For this client we made a cover of 5 modules that will leave enough space for the transit with comfort and to change in winter. The color anthracite gray fits perfectly on the beach of the pool. A success and another satisfied customer.
As can be seen in the photos the sides open completely and have several positions. It can also be left open only the top, leaving the bottom as a fence which is very useful in homes where there are small children or pets. This pool enclosure can be attached to any wall or facade with sufficient height. It is sometimes the best option to gain in covered surface and minimize the cost of production. In the front and in the bottom we have several types of door that we can add. The one shown in the picture is a simple sliding door, although we can also make a double door and the spectacular accordion door that leaves it completely open.
If you are interested in a fixed pool enclosure like this model contact us and we will advise you the best options for your pool. We use first quality materials so that the result is a cover for a lifetime.