Our Rita pool enclosure model is currently the most popular model among our customers. It is a very practical and versatile model with which we will be able to lengthen very notoriously the time of use of our swimming pool. All our covers and this one in particular are characterized by their easy handling. Thanks to our bearing system, we avoid the placement of unsightly guides or rails that can also be a danger to those who step on them. In addition, these rails often hinder the cleaning of the pool surroundings.
In this case our client had a problem with dirt since the pool is located in an environment with a lot of vegetation. With the installation of this cover the pool is kept completely free of leaves and dust.
Therefore, we manage to reduce considerably the cost and time in the maintenance of the swimming pool, both in electricity and chemical products.
Another strong point of the Rita cover is that it makes the pool water warmer. Thanks to the greenhouse effect it produces, the water temperature rises between 8º and 12º depending on the volume and location of the pool. Once we have managed to keep the water clean and at a good temperature, now we just have to enjoy the bath. To do this we incorporate a side entrance that is very comfortable to enter and exit the water.
The Rita model, like all our models, is manufactured with first quality materials. The polycarbonates we use have UV protection on both sides. This protection ensures that the cover will maintain its original appearance for many years. The aluminum profiles are lacquered with polyester powder and have "Qualicoat" certification. In short, our covers are the best investment for your pool.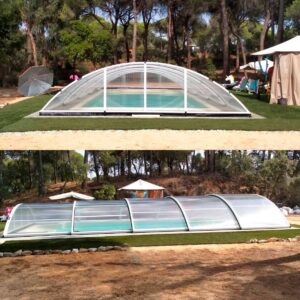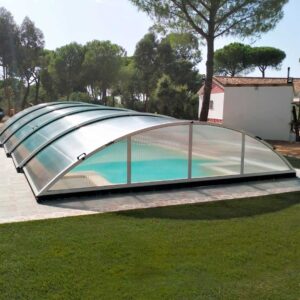 In our projects page, you can see other types of pool enclosures and discover the one that best suits your pool.